TURBO PULSE VALVES
Royal United offers a complete line of Turbo pulse valves to meet nearly all requirements. Turbo's flexibility and dynamism, combined with their in-depth technical skills, have produced pulse valves designed for the long lasting performance our OEM customers expect.

Diaphragm Options
Neoprene diaphragm
from -20° C to + 80° C

Viton diaphragm
from -20° C to + 200° C

Low Temp diaphragm
from -40° C to + 80° C
Every Turbo pulse valves features
Pilot Core: Stainless steel

DIN Connector: PG9 or ½"NPT

Coil Protection: IP65 EN60529

Operating Pressure from 0.5 Bar to 7.5 Bar

Body and Cover: Die-cast aluminum
Standard Voltages
24 V / 50-60Hz (± 10%) 19VA

115 V / 50-60Hz (± 10%) 19VA

230 V / 50-60Hz (± 10%) 19VA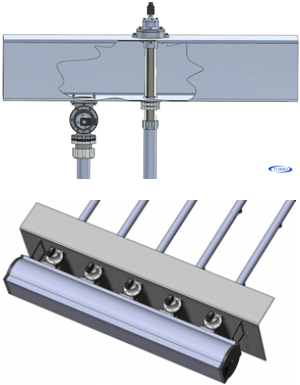 Straight Through Valve Solutions
An alternative to global immersion tanks – our threaded straight through (FD Series) and flanged straight through (EFD Series) are great solutions for an in-line system.
The straight through design requires less components than a global immersion valve to create a proper seal.

Each of our straight through valves features a bulkhead connector as the outlet for quick installation through the baghouse wall, further reducing the requirement for additional components.

Straight Through Valves are a patented design offered by Turbo.