ON THE FAST TRACK
ROYAL UNITED GROWS BY ADHERING TO ORIGINAL STRATEGY
By Lorraine Halsted, The Winchester Star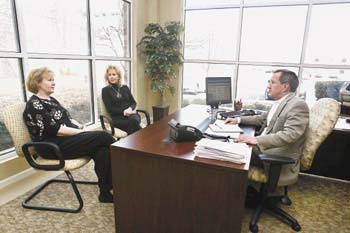 Winchester — While most companies don't place limits on who they sell their products to, the strategy has put Royal United on the fast track to growth.
Ty Headley, a partner in the locally based firm, said it's tempting to break the pledge on which the eight-year-old business was built:
To supply components exclusively to manufacturers of air pollution control systems, so they can repackage and sell them to their clients for profit.
Other suppliers, he said, sell replacement components directly to the manufacturers' customers because it's such a lucrative market.
"It's tempting because it's $500 million of potential business that's out there," Headley said, of the 100,000 companies that use air pollution control systems.
But by sticking to its commitment, he said, the company has distinguished itself from the competition.
"We're the only one who does it," Headley said, adding: "We want our customers to enjoy that downstream revenue."
By not competing for the industry's "after-market," Royal United has won over two-thirds of the 500 manufacturers who make and sell air pollution control systems.
"Our loyalty to them has produced loyalty from them," said Connie Smart, a partner in the business with Headley and his wife Wendy Headley.
Revenue also has soared since the partners started the company in 2001 — from $3 million after its first year of business to $42 million in 2008 (the most recent figures available).
The three partners started the company shortly after the 9/11 terrorist attacks, Wendy said.
"We had a very meager existence at the time," she said. "It was just the three of us and a part-time secretary when we started out."
While businesses across the board were struggling shortly after the attacks, Wendy said Royal United was able to sell its products because the company had little overhead and could keep prices down.
"We had the capability of being the lowest-cost supplier to the buyers, and that, in turn, created enough interest and opened a door for us," she said.
In the past eight years, the business partners have added six employees and last summer moved their office and warehouse from 1818 Roberts St. to a roomier 7,500-square-foot building at 600 Airport Road.
Because the company still has a small staff and minimal overhead expenses, it can continue to sell components at competitive prices, Ty said. "Our customers are not going to pay a premium on components."
Instead, profits add up when components are sold in large quantities.
"We really collect pennies," Ty said. "We don't put 20 to 30 percent on our products."
While Royal United distributes and sells its products, the company also supplies custom-designed components to clients by outsourcing the production work to other companies.
Also distinguishing Royal United from its competitors is the products it sells. The company has five major types of components, while its competitors typically specialize in one, Ty said.
"No one else has tried to be a supermarket of components," he said. "That makes us unique."
About 50 percent of Royal United's volume in component sales comes from manufacturers that sell pollution control systems to coal-powered plants, Wendy said.
Industries that operate kilns and furnaces are also major users of pollution control equipment.
While the business partners say they will continue to avoid the after-market, they also plan to continue growing their clientele base by working with new manufacturers.
"We still have that one-third of the market that remains our target," Connie Smart said.
And that untapped market for Royal United won't expand any time soon.
"There aren't a lot of equipment manufacturers starting up," she said. "It's very competitive."
This article appeared in the Winchester Star on Jan. 23, 2010.